30 Hrs Instructor Led TrainingCertification & Job Assistance20 hrs of Lab SessionsPay in 2 InstallmentsFlexible Schedule24 x 7 Lifetime Support Watch Previous Class
Preferred
Live Online Training
Next Demo Sessions
Corporate Training
For Business
Installing Docker on Ubuntu
Installing Docker on CentOS
Installing Docker on Windows10-pro
Updating Docker
Granting Docker Control to Non-root Users
Configuring Docker to Communicate Over the Network
Playing Around with Our First Docker Container
Module Intro
The High-Level Picture
The Docker Engine
Docker Images
Docker Containers
Docker Hub
A Closer Look at Images and Containers
Volumes
Persistent Data and Production Containers
Image Layers
Union Mounts
Where Images Are Stored
Copying Images to Other Hosts
The Top Writeable Layer of Containers
One Process per Container
Commands for Working with Containers
Scenario with a working example
Module Intro
Starting and Stopping Containers
PID 1 and Containers
Deleting Containers
Looking Inside of Containers
Low-level Container Info
Getting a Shell in a Container
Scenario with a working example
Module Intro
Introducing the Dockerfile
Creating a Dockerfile
Building an Image from a Dockerfile
Inspecting a Dockerfile from Docker Hub
Scenario with a working example
 
Module Intro
Creating a Public Repo on Docker Hub
Using Our Public Repo on Docker Hub
Introduction to Private Registries
Building a Private Registry
Using a Private Registry
Docker Hub Enterprise    
Scenario with a working example
+ 9 more lessons
Need customized curriculum? Talk to Advisor
To test your knowledge on Docker Kubernetes Training, you will be required to work on two industry-based projects that discuss significant real-time use cases. This will also ensure hands-on expertise in Docker Kubernetes Training concepts.
These projects are completely in-line with the modules mentioned in the curriculum.
Features
Demos at Convenient Time?
1-1 Training
Batch Start Dates
Customize Course Content
EMI Option
Mock Interviews after Training
Group Discounts
Mindmajix
Others
Our Docker Kubernetes course covers all the topics that are required to clear Docker Kubernetes certification. Trainer will share Docker Kubernetes certification guide, Docker Kubernetes certification sample questions, Docker Kubernetes certification practice questions.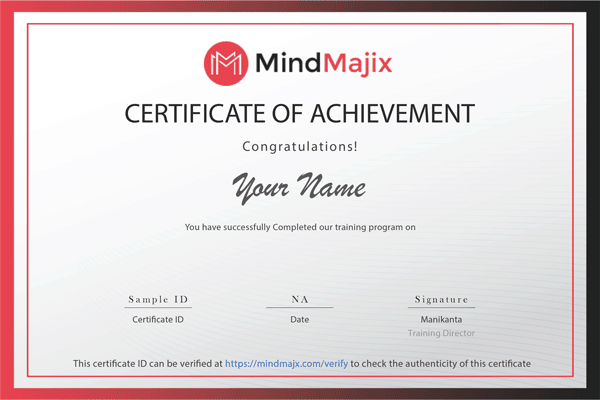 Start Learning
Trusted By Companies Worldwide & 4,10,350+ Learners
Yes, you get two kinds of discounts. They are group discount and referral discount. Group discount is offered when you join as a group, and referral discount is offered when you are referred from someone who has already enrolled in our training.
The trainer will give Server Access to the course seekers, and we make sure you acquire practical hands-on training by providing you with every utility that is needed for your understanding of the course.
The trainer is a certified consultant and has significant amount of experience in working with the technology.
Yes, we accept payments in two installments.
If you are enrolled in classes and/or have paid fees, but want to cancel the registration for certain reason, it can be attained within first 2 sessions of the training. Please make a note that refunds will be processed within 30 days of prior request.
Have More Questions. Reach our Support Team Contact Us
Tanvi
5.0
Recently I joined Docker Kubernetes Training Provided by Mindmajix. Training has been organised well by the supporting team, and they have conducted regular follow-ups regarding the training.
Vikash Sharma
5.0
I enrolled in the Docker Kubernetes training offered by Mindmajix. The trainer explained every topic until I understood it. This training helped me in getting the Docker Kubernetes certification.
Vikash Sharma
5.0
I have joined for Docker Kubernetes Training at Mindmajix. Thank you Mindmajix for awesome co-ordination. The training was very good and the trainer is so cooperative.  Overall it was a good experience with Mindmajix.
Tanvi Narkhede
5.0
My experience with Mindmajix started with Docker Kubernetes Training, had a great experience with the team and support as well from the staff. The staff had great exposure in the domain and being a real time employee, he had supported a lot of real time work experience. We had a regular query hour after the class completion. Thanks Mindmajix!
Siva Kesana
5.0
At work, I have recently started a project with Docker Kubernetes & I have all there in this course online, I have enjoyed the course. Thanks to the support team as well. Thanks to Mindmajix.
Asif Hasan
5.0
I took .NET training from Mindmajix. I must say the course content was highly qualitative and the trainer covered all concepts. Overall it was a good experience with Mindmajix.
Ashim Sen Gupta
5.0
Thank You for the sessions that helped me gaining knowledge in Spotfire training. Trainer's experience helped me to get the detailed information regarding the key concepts and challenging tasks in real-time. Thanks once again.